About us
Let me introduce myself, My name is Zischa Willlemsen, I live in Arnhem together with my partner Aart Mulder and our two female Rottweilers Labarrischa and Marieluca 't Hupke.
Since I was a baby my parents had Rottweilers and a lot of other animals. So I grew up with Rottweilers and because I was an only child the Rottweilers were my best friends. In 1984 Aart and I became our first Rottweiler together named Seric (Rico) van de Hondsrughoeve. My father became seriously ill and therefore his Rottweiler puppy came to live with us. With these two Rottweiler males we have made many beautiful trips abroad. Where we went they went along. We have always had male dogs. But when our last Rottweiler male Extebarrya (Barry) van de Leemlande died in 2012 and there wasn't immediately a male Rottweiler available, we took our first bitch called Labarrischa (Barrischa) 't Hupke.
What we then did not know is that a whole new adventure was waiting for us. Soon after Labarrischa came our second bitch Marieluca (Luca) 't Hupke and together we have had our first dog show in March 2014 where our Marieluca became best baby in show and 3rd. place overall. And after one show became more. The name of my kennel is a tribute to all my dear Rottweilers. It started with the name of our first two Rottweilers Barry-Ipie-Jomar and Dubarry of the Brantsberg. Then there followed many Barry's.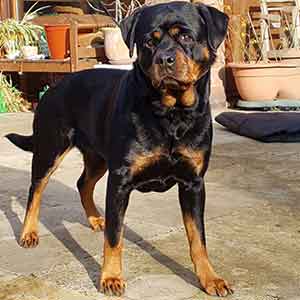 I hope you will enjoy browsing my website.